Yes!  Minnesota's No-Fault Act grants a pedestrian Basic Economic Loss (BEL) benefits if your injury results from the use or maintenance of a motor vehicle.  If your accident occurs in Minnesota, every person injured by a motor vehicle is entitled to BEL benefits.  Additionally, bicyclists are entitled to Minnesota's No-Fault benefits.
Accidents involving pedestrians
Your injuries, as a pedestrian, need to arise from the maintenance or use or operation of a motor vehicle.  In other words, your injury needs to have been directly related to the use of that motor vehicle that struck you as a pedestrian.  The courts determine this causal relationship through a series of principles:
There must be some causal relationship between the injury and the                                                                                                    use of the vehicle for transportation purposes.
The vehicle must be more than just the place where the injury occurs.
The injury must be a natural and reasonable incident or consequence                                                                                             of the use of the vehicle.
Basically, the motor vehicle must be actively connected with your sustained injuries.
What are Basic Economic Loss (BEL) benefits?
Pedestrians involved in accidents with motor vehicles are, generally, entitled to BEL benefits.  Like the no-fault benefits, BEL benefits provide reimbursement for all loss suffered through injury arising out of the maintenance or use of a motor vehicle.  BEL benefits provide a minimum of $40,000 for loss arising out of the injury of one person:
(1) BEL benefits provide you $20,000 for medical expense loss arising out of your injury; and
(2) a total of $20,000 for income loss, replacement services, funeral expense loss, survivor's                                                   economic loss, and survivor's replacement services loss arising out of your injury.
Can I recover noneconomic benefits?
You can recover noneconomic benefits under two conditions: (1) your injury resulted from the use or maintenance of a motor vehicle (not a motorcycle) and (2) if you meet the tort thresholds that apply with typical no-fault benefits claims.
What are the thresholds to the No-Fault benefits?
To recover noneconomic benefits from being injured as a pedestrian, there are No-Fault Thresholds you need to meet:
(1) Prove that the accident was caused by the fault of another, and
(2) Meet one of the following No-Fault Thresholds:
– Over $4,000 in treatment expenses, OR
– 60 days inability to work or perform your daily activities, OR
– Permanent injury determined by a doctor
(3) Then you may be entitled to the following Recoverable Losses:
– Past pain and suffering
– Future pain and suffering
– Future medical expenses
– Future lost earning capacity
What if I'm struck by a motorcycle and not a motor vehicle?
If you are struck by a motorcycle, you are only entitled to BEL benefits and are not entitled to noneconomic benefits
What if I'm a bicyclist hit by a motor vehicle?
Typically, you can recover for no-fault benefits if you are a bicyclist struck by a motor vehicle.  If you have a vehicle covered by automobile insurance and you are injured on your bicycle, your no-fault benefits will provide your No-Fault coverage.  Remember, when making a claim for no-fault benefits, your insurance company pays for your benefits.
Again, while making a claim for no-fault benefits, you will need to meet the no-fault threshold, outlined above.  If you meet that threshold, you are generally, entitled to no-fault benefits.
What is included in no-fault benefits?
Minnesota's No-Fault insurance covers a variety of expenses when you are involved in a MVA.
(1) A minimum of $20,000 for medical expenses, including medical treatment, chiropractic                                         treatment, prescription medications, and mileage to and from your treatment appointments;  and
(2) $20,000 for a combination of income loss, replacement services, funeral expense loss, and survivor's loss.
How do I activate these benefits?
To activate the process of receiving medical and income loss benefits, you need to file a personal injury form with your insurance company.
Can my insurance company contest my claim for medical benefits?
Yes, insurance companies can contest your claim for medical and income loss benefits.  This part of the process is complicated and you will likely need an attorney to help you through the process.
I have handled hundreds of cases through jury trials, court trials, administrative proceedings and Google has ranked our firm as a five-star business.
Every insurance company and policy is different, and a personal injury attorney can assist you in dealing with your insurance company, making these claims, and recovering your medical and income loss benefits.  For more information regarding any medical or income loss benefits claims you may have, feel free to contact Katherine Brown Holmen, a personal injury, wrongful death, and worker's compensation attorney at Dudley and Smith P.A.   Katherine has over 24 years of experience and has worked on thousands of medical and income loss benefit claims.  If you are a pedestrian who has been involved in an accident and want to recover medical and income loss benefits, please contact Katherine Brown Holmen at 651-291-1717 or by email at kholmen@dudleysmith.com.  Dudley and Smith, P.A. is a full service law firm with offices in St. Paul, Blaine, Bloomington, Burnsville, Chanhassen, White Bear Lake, and Woodbury.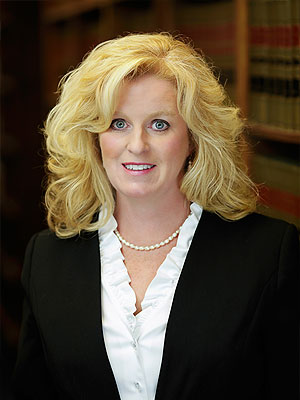 Katherine grew up in Minnesota and has lived there for most of her life. However, she did attend the University of North Dakota School of Law, where she was a dedicated student who graduated and passed the Minnesota Bar Examination to become a lawyer by the age of 24.  Since her graduation she has worked exclusively as a personal injury lawyer in the Minnesota area, gaining great experience from a huge number of cases, as well as a reputation among her fellow attorneys as a top ranking attorney in personal injury actions in the State of Minnesota.
December 2017 Client Review.
"I wrote you a thank you card but decided that my writing wasn't grand to say the least (shaky).  I like to thank you for your work on our case which has been so very difficult for our family in so many ways.  Thank you for sticking with us.  With so many adversities, we were so pleased to be dealing with a lawyer of honesty.  Our best to you, and thank you for your continued assistance wrapping this up.  We wish you and your family much happiness over the holidays and hope you will get a break coming up.  Warm regards."
She is a strong advocate for people who have suffered injuries because of another person's negligence and is always keen to fight for justice on their behalf. She represents people who've suffered injuries or were the victim of wrongful death throughout Minnesota in the following areas:
Motor Vehicle Accidents
ATV and Snowmobile Accidents
Airplane Accidents
Train Accidents
Boating Accidents
Pedestrian Accidents
Claims Against Bars for Over-Serving
Dog Bites
Wrongful Deaths
Injuries to Children
Nursing Home Accidents
Construction Accidents
Defective product Accidents
Work Place Accidents
School Accidents
Gun Accidents
Farm Accidents
Assaults
Slip, Trip and Fall Accidents
Appellate Law
Worker's Compensation
We invite you to schedule a free initial consultation to learn more about our personal injury practice. If you cannot come to us, we will come to you in your home or in the hospital.